Slideshow
Other Top Rated Products
4.9 star rating
614 Reviews
Garden Flag
Review by Steve S. on 8 Jun 2020
review stating Garden Flag
Great color. Seems to be pretty tough for outdoors.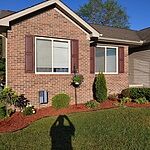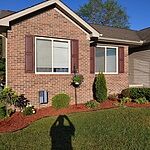 Loving the flag
Review by Lisa L. on 8 Jun 2020
review stating Loving the flag
I ordered just the flag. I have gotten several positive comments on how good it looks in my flower garden. I couldn't be more pleased with it. Very high quality made. The color is so crisp and bold. Proud to own it.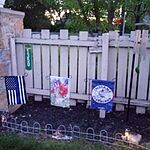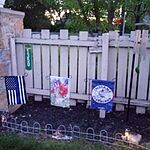 I am proud to display
Review by Carol A. on 5 Jun 2020
review stating I am proud to display
I am proud to display my Thin Bue Line flag. My late husband served as a police officer and all these officers deserve our respect.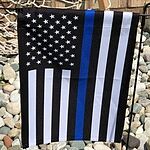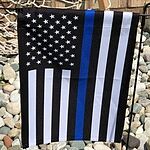 Jeannerre A.
5.0 star rating
My Second Flag
Review by Jeannerre A. on 24 Dec 2019
review stating My Second Flag
Excellent quality garden flag and my second order to prepare for springtime as ours is displayed in our front garden year round. I've had the first one for several years now. Proud to display it!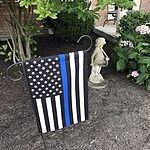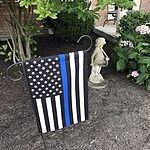 Great item, high quality
Review by Robin G. on 19 Jan 2017
review stating Great item, high quality
Live supporting our men in Blue. This is the 2nd flag I've bought. Great quality and fast shipping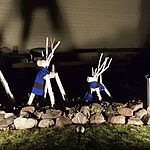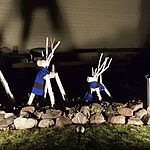 Comments by Store Owner on Review by Robin G. on 19 Jan 2017
Robin, great photo! Thank you for shopping with us!
Q: What is the size of the sleeve for the Thin Blue Line American Garden Flag? I need the sleeve to accommodate a 3/4" PVC piping. Thanks in advance.
A: Yes, the sleeve will fit on a 3/4'' pole!
Q: Is this a double sided flag?
A: Yes, the design is printed on both sides!
Q: Does the flag come with the pole?
A: In the drop-down box next to the photo of the flag, there are two separate options. One includes the flagpole and one just includes the flag!
Q: When will the TBL garden flags be available again? Mine is about worn out (has holes).
A: This flag is currently available! Please select the option "flag pole not included", as we are out of stock of our Garden Flag Poles.