Slideshow
Other Top Rated Products
5.0 star rating
680 Reviews
Patricia K.
5.0 star rating
Quality Item!
Review by Patricia K. on 24 Jul 2020
review stating Quality Item!
I've purchased multiple coins to present to random officers that I see as I'm out and about. I thank them an exchange words of encouragement and present them with a coin.  The expression of the officers when they receive such a heavy, finely crafted, detailed Challenge Coin is beyond words.  I will DEFINITELY purchase additional coins!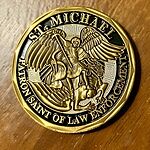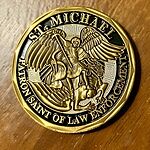 Albert E.
5.0 star rating
Coin
Review by Albert E. on 12 May 2020
review stating Coin
Very good looking coin.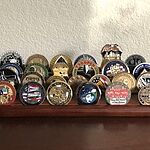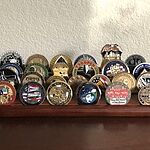 Protector of 25 yrs NYPD
Review by Ken S. on 25 Mar 2020
review stating Protector of 25 yrs NYPD
I'm very appreciative of Thin Blue Line's St. Michael coin. I come from a proud military and LEO bloodline. My baby brother just retired after 24 years with NYPD and my baby daughter is currently with GA SRO after stints with GAPD and SCPD. I was impressed with the quality and detail of the Challenge coin. I'm extremely pleased and will request more for NM and military LEO'S.
Keep up the great work.
Vr
Retired AF
K Shannon Jr
NYer in NM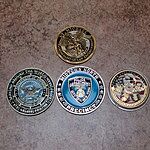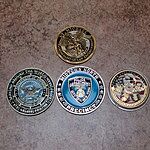 A gift to a dear friend
Review by Lou n. on 5 Jan 2020
review stating A gift to a dear friend
I purchased this piece for a dear friend of mine who is a sergeant in the Suffolk County Police Department. He responded to an Aided Case call for me back in 2010, and he made sure the EMS rescue unit took me to the hospital I needed to go to.
I'm a civilian with the Department and Jimmy who was a patrol police officer at the time told the ambulance crew that I am in service with the Department and they were to take me where I needed to go. The ambulance crew took me where I needed to be thanks to Jimmy Watters. We became friends that night and have been ever since!
I just knew I wanted to bless him with this special gift...
God Bless You Sgt. James Watters
SCPD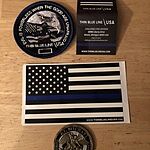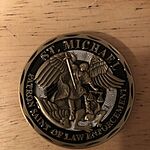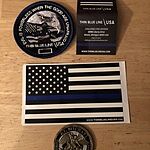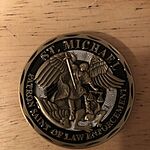 Robert G.
5.0 star rating
Police Coin
Review by Robert G. on 16 Dec 2019
review stating Police Coin
I bought this coin for myself, I want a First Responder Challenge Coin to be added to my Military Challenge Coin collection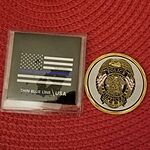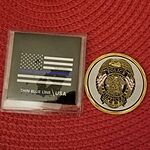 Q: about what size is the St. Michael coin??
A: The St. Michael's Coin is about the size of a US half dollar coin!
Q: What is estimated shipping time. Want to make sure it's not coming from (a slow boat) China.
A: Standard shipping is 5-8 business days. We also have Priority and Express options available!
Q: St Michael is also patron saint of firefighters. My grandson is a firefighter and medic. Do you have that coun?
A: We currently do not have this item available, but we will be producing firefighter and medical coins soon!
Q: Can the St. Michael coin be personalized?
A: Unfortunately, this coin requires a bulk order of 100 for customization.