Slideshow
Other Top Rated Products
4.9 star rating
72 Reviews
Good Quality I have it
Review by Tyler L. on 23 Sep 2021
review stating Good Quality I have it
Good Quality I have it on my backpack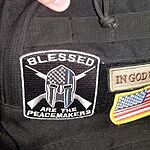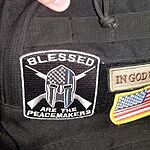 As advertised
Review by Kent C. on 20 Oct 2022
review stating As advertised
As advertised
Great quality and looks awesome
Review by Rudy M. on 19 Oct 2022
review stating Great quality and looks awesome
Great quality and looks awesome
Great Looking Patch
Review by Robert Z. on 12 Oct 2022
review stating Great Looking Patch
This is an outstanding velcro patch. The design is so well done. Bought three and I will buy more.
Great Patch
Review by John M. on 12 Oct 2022
review stating Great Patch
Great patch to put on any backpack or mole bag. Great graphic design and color. Any LE member would be proud to display the Punisher and great saying. Good quality product and would recommend to anyone. Though I Walk Through The Valley of Death I Fear No Evil.
Blessed Are The Peace Makers.
Q: You could make that patch into a metal and make a necklace out of it!!
A: Thank you for your suggestion! We'll pass this along to our product development team.