Slideshow
Other Top Rated Products
5.0 star rating
21 Reviews
3x5 American Flag
Review by Raymond D. on 12 Nov 2018
review stating 3x5 American Flag
Excellent product 2nd flag that I ordered first flag lasted over a year. Flag is on a 20' flag pole and is up all the time. I live in Florida and it's breezy or windy often. I also purchased a thin blue line flag both products I would highly recommend. Great company products arrived before expected and in great shape.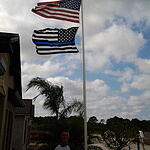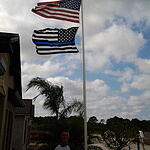 Comments by Store Owner on Review by Raymond D. on 12 Nov 2018
Ray, thank you for your support!
Good quality
Review by Nate L. on 2 Jul 2020
review stating Good quality
Good quality
Great purchase
Review by Helen K. on 11 May 2020
review stating Great purchase
These flags arrived very quickly and exactly as described. We have both the traditional American flag and the blue line flag displayed on one flagpole. They seem to be well made and very sturdy. They make a huge statement in our garden.
The flags arrived very fast.
Review by Neil D. on 6 May 2020
review stating The flags arrived very fast.
The flags arrived very fast. They are of high quality and proudly flying on my home!
Great Buy
Review by Gregory S. on 5 May 2020
review stating Great Buy
Great quality flag